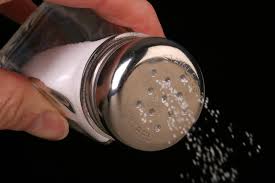 When reading, I've long had the habit to use bookmarks rather than turning down the page. My reasoning is that one day I'll release my gathering hoard of books so that others might enjoy them as if they are still new. I'll arrange them on my drive for a magnificent Saturday morning book sale, or cart their pristine titles to our local used book store. So I keep my books safe. Guarded. Lovely.
Mostly my bookmarks are corners torn from yesterday's newspaper, or a magazine ready for tossing.
To me, it seems a thrifty way to go.
So today when I opened my newest read (Pulitzer Prize winner, Olive Kitteridge by Elizabeth Strout) and transferred my little torn paper bookmark, my eyes fell to the writing on it.
"Hold the Salt," it read.
But NO, I thought.
I want salt. And cracked pepper shot across the top of everything.
And chipotle.
And soy sauce, dark and salty as night. And ginger. And basil. And thyme.
I want to notice how thyme rhymes with time, because that's what I want!
I want pesto, and garlic crushed beneath my knife,
Chopped cilantro and tomatoes,
Sweet basil crumbled through my fingers.
I want bright yellow curry and cumin that tastes like the earth.
I want peppers and onions strong enough to cry with me.
I want SPICE.
But Hold the Salt?
Never.
I considered the thought of life as spice as I (for once) folded down the corner of a book, and tossed  that now-useless bookmark with its words of wisdom that don't apply to me.
At least, not right now.