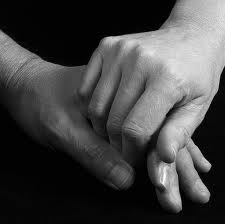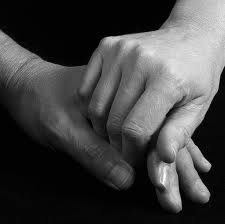 We sit in straight, hard backed chairs, knee-to-knee, hand-in-hand. My sister wears light blue hospital scrubs—she's apparently graduated from wearing gowns. Her face is thin; she's lost a good deal of weight, but her lower legs are heavy with edema, her knees swollen, like grapefruits.
I've brought her a candy bar. She knows me and smiles.
For the past month and a half, she's been mostly unable to speak, to get up from her bed, to eat. To engage. New medication helps her now—for the most part. Still heavy-lidded, she speaks little. She tells me several times over that she doesn't remember anything. She's forgotten my visit two days earlier, when we sat for two hours in our straight chairs, our knees together, our hands knitted together. She doesn't remember how she got from her bed to the dayroom. She's forgotten what she ate for lunch two hours earlier, or that she's mentioned her forgetfulness several times.
It doesn't matter.
We simply sit in our straight chairs, knee-to-knee, hand-in-hand, and let the moment shine.