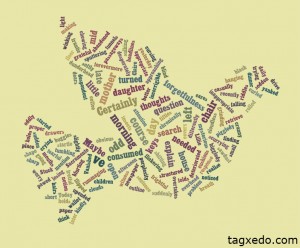 Some things are just meant to play with. I've taken the first lines of my story, All the Dancing Birds, plugged them into tagxedo.com, and Voila! I have made WORD BIRD! Thanks go out to my friend, Merrie Destefano, who perfectly explains the art of word-clouding and how fun and creative those nice folks are at tagxedo. They'll even take your word image and imprint it onto items like t-shirts or bags or coffee cups.
I could play there all day!
But, it's time to return to our regularly-scheduled programming, and the highly serious business of writing more potentially lovely word clouds.