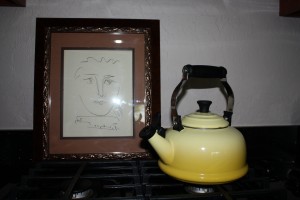 Have you missed me?  I've missed you.  I'm sorry for my unannounced absence, but this has been a very wild and crazy last couple of weeks.  Apparently, it's the McCanta's Annual Season for Breakage.  I'm thinking of submitting this seasonal phenomenon as a suggestion to Those-Who-Make-Such-Decisions as a proposed National Holiday.
May I enumerate?  I may?  Oh, yes.  Let's do that!  Let's tick off all the dirty, rotten broken things that died forever and ever, or caused a forever and ever death, making said attenuation of further dead things to be doubly noted over the past two weeks, or were, perhaps, just mildly broken and still fixable things.  The list starts with:
One tea kettle
Three sink faucets
One shower (Oh, yes … showers can die)
One 5-ton air conditioner on the hottest day so far this summer (this is Phoenix, folks.)
One irrigation system (please read earlier note about this being Phoenix.)
One-half of all yard plants (Irrigation System v. McCanta, Id.) See how this is building?
One Golden Retriever with a double ear infection and very, very painful hips
One daughter's broken, thus operated-on and now very painful nose
One frazzled, dirty, harried, run-to-ragged husband
One hot, hot, hot (no, not that way) wife, also harried and run-to-ragged
But, witness the new Tea Kettle.  She is a beauty, no?  She is YELLOW!  She is nestled next to a Picasso Pour Roby etching I bought at a yard sale for $5.00 and always keep behind my stove for some ridiculous, unknown reason other than that's where I keep it.  Don't get excited.  The Picasso is not really worth anything except that it looks FABULOUS next to my new yellow Le Crusset tea kettle.  That dear kettle was the last one at the store and they won't get any more.  Ever.  Its predecessor was white and nondescript … and electric, pulled out from the dark of the cupboard to perform its duty, then emptied and stored away again.  New YELLOW Tea Kettle gets to live out in the open.  Next to Pour Roby!
Of course, things break.  Things are finite.  Things are just things.  They click and clunk and clank and chug.  They bink and bong and annoy us to no end with their intrusive  noise and endless thing-ness.  They  give us pleasure when they work and they give us angst when they break.  They are things, after all.
As a writer, I have a tendency, of course, to anthropomorphize EVERYTHING!  Air Conditioners are living, breathing entities to be given honor for their hard work in a desert summer and, as such, they deserve our proper respect when they die their much-unexpected deaths (which always occurs during a heat wave in Phoenix — why is that?).  Faucets are Beings with constant gastric upsets, causing them to spit or burp or stream out the last of their living waters at the most unexpected moments.  Tea kettles die sad and unforgettable deaths; they are grievously mourned, especially when they have spent years building a really good dark and loamy interior.  Daughters have regrettable nasal upsets.
But then our things are replaced.  With new things.  Better, more modern things.  5-ton things.  Underground, life-giving things.  Gurgling, whistling, watery things.  Bridging, cartlidging, nasally things.  New and better things.
Have I mentioned that I love things?