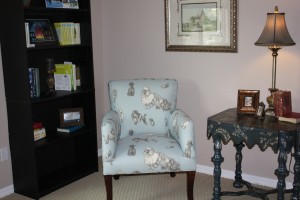 AUBURN'S BEAUTIFUL NEW POODLE CHAIR READING AND TEA-SIPPING CORNER
What can I say?  Sometimes it just doesn't do to place something on one's Magical List of Onces.
Thus, Behold!  Another item for my Mystical List of Hases.
Perhaps tomorrow we shall explore the Mysterious List of Maybes … or the Fantastical List of Possibilities.  Note, those lists are interchangeable and mostly confusing as they sometimes intertwine between the Magical List of Onces and the Mystical List of Hases.
Baffled?  Me too.
Still, I am such a failure to have moved this lovely chair from my Magical List of Onces to my Mystical List of Hases.  But who could blame me?  Certainly not HGTV, which now has a parental block placed on it by my husband.
Sigh.