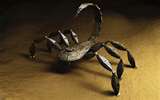 We've been having scorpion problems in our house,
As happens now and then in Phoenix.
The bug guy came this morning.
Sprayed inside and out.
Then Dan decided to place expand-o-foam
Under the cabinets
… In the spaces …
Where scorpions might enter.
As we worked, he spraying,
Me cleaning up behind,
The following conversation occurred:
Me: If I were to die first, you'd be able to take care of things, no?
Him: Hmmmm.
Me: So I think I should die first, to be polite, you know.
Him: Naw … I don't so much like scorpions. Ordinarily I'd say you first,
But not when stinging things are concerned.
I'll go first, if you don't mind.
Me: No.
Him: Get a nice condo – you should have a nice one.
And on a high floor where there are no scorpions.
We're so silly.
We know we don't have a choice in the matter.
Nevertheless, my Dan is so kind to me!
He fills the spaces in my heart,
Much like his expand-o-foam.